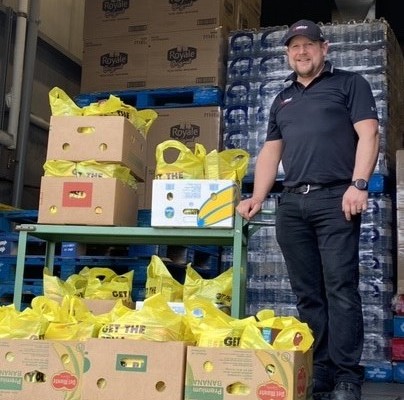 The Woodstock-Oxford Rotary has already raised $8,000 for United Way Oxford's voucher program and all of the money raised will stay local, going to help families, children and the homeless in Oxford County.
OXFORD COUNTY - The Woodstock-Oxford Rotary is continuing to match donations to help some of the most vulnerable people in our community right now.
All of the money raised will stay local and it will go towards providing help to families, children and the homeless in Oxford County.
Woodstock-Oxford Rotary will match up to $8,000 in donations to help with local community needs.
You can donate and be eligible for a CRA tax receipt online or go here and follow the links to donate. CRA tax receipts will be issued via email.
They have already raised $8,000 for the United Way Oxford voucher program.
Rotary Member Julie Raycroft says the reactions on peoples faces when they make a delivery is priceless.
"I have been on some deliveries and I do get to talk to the people, I have my PPE on and I stand 6 feet apart of course. The smiles on their faces is incredible, I feel like Santa Claus. They are just so happy there is help for them. They really look forward to it."
Raycroft says they are doing these deliveries every other week.
"We were doing it every week on Fridays, this is my fourth delivery going out now. I am just so happy to be able to have that time to go out and deliver, we are growing and growing and accepting more volunteer drivers every day."
In the past Rotary has supported youth projects, such as scholarships and YMCA activities. During the past few months, they have supplied a BBQ and food, each Saturday to the Community Free Table and items to the Circle of Friends table.
More recently, this club has donated a total of $8,000 locally for food vouchers, groceries and toiletries, going to those in need during these challenging times.
If you want to help your neighbour, you can donate online and receive a CRA Tax Receipt on the Woodstock-Oxford Rotary's website. (Select the Select the Donate links to contribute and Make a Difference).