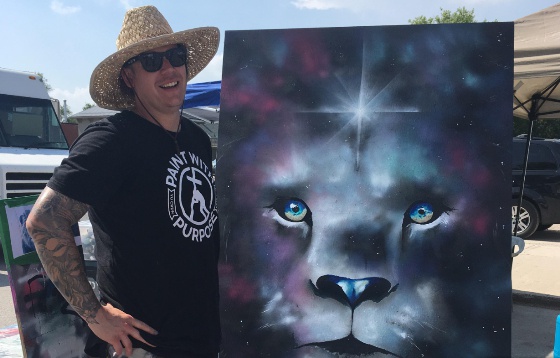 Artist Roy Verbeek at Nostalgia Days. (photo submitted)
Youth Unlimited wanted to draw some attention during Nostalgia Days in Norwich last week. To do this, they had Roy Verbeek paint an amazing mural during the festival.
NORWICH - Nostalgia Days were another smashing success in Norwich last week.
Youth Unlimited brought in an artist, Roy Verbeek to paint a mural during the festival. Satellite Director Jacqueline Armstrong says it was really cool watching Verbeek create the mural in real time.
"Just to see his talent and his ability and what he does, he teaches kids that you have this talent and this ability and helps to bring that out."
Armstrong says they wanted to draw some attention to their booth, and the mural certainly accomplished that.
"We thought it would be nice to draw people to our little booth, to draw attention to who we are, what we are about and that we are really here to care for our young people."
The painting will now hang at the Youth Centre in Norwich. Youth Unlimited offers a variety of programs for young people in Norwich. They have different programs, for different age groups and you can find more about them and the services they provide online here.