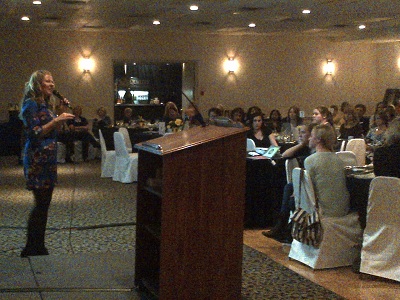 Keynote speaker Christal Earle speaks to the crowd at a Zonta Club of Woodstock event
Zonta Club of Woodstock marked International Women's Day a few days early with a dinner event at Quality Hotel & Suites.
Zonta Club of Woodstock, a local women's advocacy group, says that for as much success the women's movement has had, there is still much work to be done.
"We cannot empower women unless they become aware. That is what we do through education or through a night like this, we can tell women about what is happening in other parts of the world," said Maria Odumodu, a past president of the Woodstock chapter of Zonta.
"Women make up 52 per cent of the population according to the United Nations. We still do not hold 52 per cent of the board rooms. I don't even know if we hold up to 12 per cent. So we have so many more strides to make," she said.
While striving for a day when men and women hold an equal share of corporate power, the evening's keynote speaker Christal Earle points to a much more repugnant issue facing women and human-kind as a whole.
"There are estimates as high as 27 to 30 million people today that are in slavery," said Earle, who is the co-founder of an international youth humanitarian organization called Live Different.
"That is more than hundreds of years of the Trans-Atlantic slave trade combined," she said.
"Trafficking and slavery happens even here in our own country. There are a lot of things happening behind the scenes, so there's even ways for us to educate ourselves on how we can identify slavery in our own communities and those resources are available locally as well," said Earle,
Slavery comes in many forms, Earle said "from women and children being caught in prostitution and trafficking, to debt bondage, to house slavery. It looks different in many different countries, it can be generational, like slaves are born into slavery still in some areas that are not open to dealing with the problem yet."
International Women's Day is Sunday, March 8. Zonta Club of Woodstock's event raised funds for its parent club, Zonta International.
Zonta was founded in Buffalo, New York in 1919 with a goal of advancing the status of women through service and advocacy, according to the organization's website.