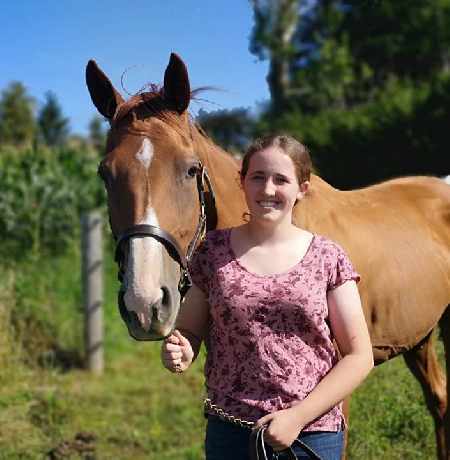 Photo Credit: Brenna Parkhill (Submitted)
15 year-old Brenna Parkhill of Embro started a company to support the well-being of horses. Her business Lucky London makes bridle charms, which gets attached to one of the pieces on the horse's bridle.
EMBRO - A teenager from Embro recently began a business to help find a home for horses.
15 year-old Brenna Parkhill started Lucky London just before Christmas where she makes bridle charms for horses.
She says she was looking for a way to work from home, where she could still find time between helping the animals and her extracurricular activities.
"All of my charms that I make, they're bridle charms. Horses wear bridles while you're riding them and you can attach them to one of the pieces on the bridle as a symbol of good luck, a reminder, something that represents your horse."
Parkhill says her main goal is to raise funds and awareness.
"We have a few rescues of our own. They're kind of like dogs, actually. They're a lot like dogs but way bigger, they're really cool."
She adds that all of the bridle charms are handmade.
She started a group called "The Hoof Club" last year with her fellow students at her elementary school in Zorra to help save a horse. Diamond Beau was a therapy horse for autistic children after he retired from racing.
Each charm costs $9.00 each or three for $20.00 and $1.00 from every charm ordered goes towards organizations actively benefiting horse welfare.
She says she helps with her rescue horses at her home, along with other horse rescue organizations. Brenna and her mother Jill help a woman who runs a horse rescue in St. Marys. Brenna says all of the money the business raises goes towards the horses at the rescue, while the money that she earns goes back towards her rescue horses at her home.
If anyone is interested in buying a bridle charm, you can head to the website. And if you want to learn more about Lucky London, you can also find them on Facebook and Instagram.