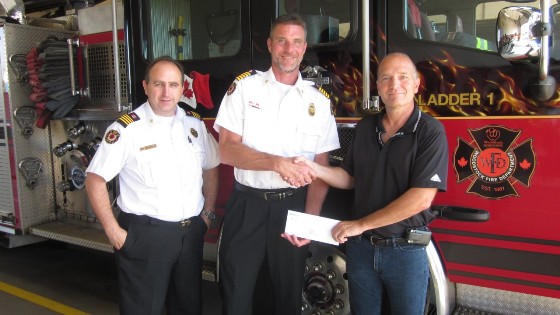 Union Gas is donating cash to help the local Fire Department spread their fire prevention messages.
WOODSTOCK - The Woodstock Fire Department has been given a $1,000 grant to support safety awareness programs.
The money was given to them by Woodstock Union Gas. In a press release Utility Service Manager Kevin Carr explains why they chose to donate this money to the fire department.
"At Union Gas, we are committed to the safety of our employees and our communities and we share that commitment by supporting programs like offered by the Woodstock Fire Department that help us all stay safer."
Woodstock Fire Department are always looking for new ways to bring awareness to fire safety. Over the years they have really focused on Carbon Monoxide awareness and ways to enhance personal safety at home and in the workplace. They are probably best known for delivering pizza's during Fire Prevention Week. If you order a pizza and it is delivered by a fire fighter they will pay for your dinner if you have the proper smoke alarms and CO detectors.
Fire Chief Scott Tegler wanted to thank Union Gas for their generous donation.
"Generous grants, such as the one the Woodstock Fire Department is receiving today from Union Gas reinforces the positive relationship the two organizations have and willingness to share in the promotion of community safety."