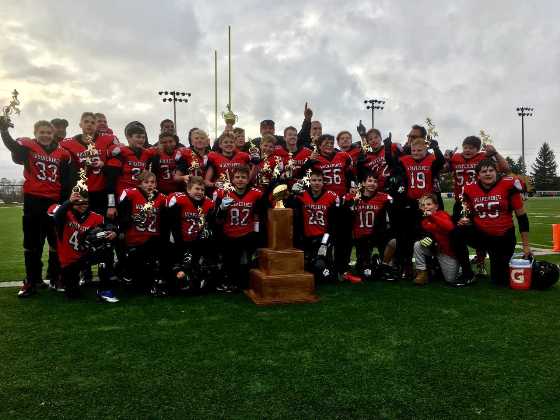 photos supplied by coach Camboia
The Woodstock Wolverines are your 2018 Ontario Football League Champions.
WOODSTOCK - The Bantam Boys Woodstock Wolverines are The Ontario Football League Champions for 2018.
Woodstock won the championship game on Saturday beating Clarington 40-14 on Saturday. Head Coach Chris Camboia says he is incredibly proud of the boys.
"The City of Woodstock should be proud of these young men, they are real leaders, they went up against some the best competition in the Province and to represent our city and our community across the Province against bigger cities and the best competition and I just want to thank all those players and coaches for their best effort all the time, to be named Ontario Football League Champions, they deserved it."
Camboia says his team didn't take any prisoners en route to the championship.
"To get to the Championship, they had to knock of Mississauga, then they beat Burlington and a program down in Port Dover that draws from the Niagara region, then they had to beat Burlington to make it into the championship game and it is a hotbed down there, we have a lot of respect for those guys they had a good team but we dominated that game and were up 38-0 at the half."
Camboia says the guys played amazing all season with a balanced attack featuring a good running game and a strong passing attack along with a great defence.
"We kind of went back to our grass roots and said we are going to be great at all of the small things, all the way from running and blocking and tackling to the more sophisticated things like spreading them out and being able to pass. On the Championship Day we were able to decipher what was going to be our best strength, it might sound cheesy but we showed them a clip from the movie Rocky, we just said we are going to chop this tree down, we are going to be physical and literally just put our will on them."