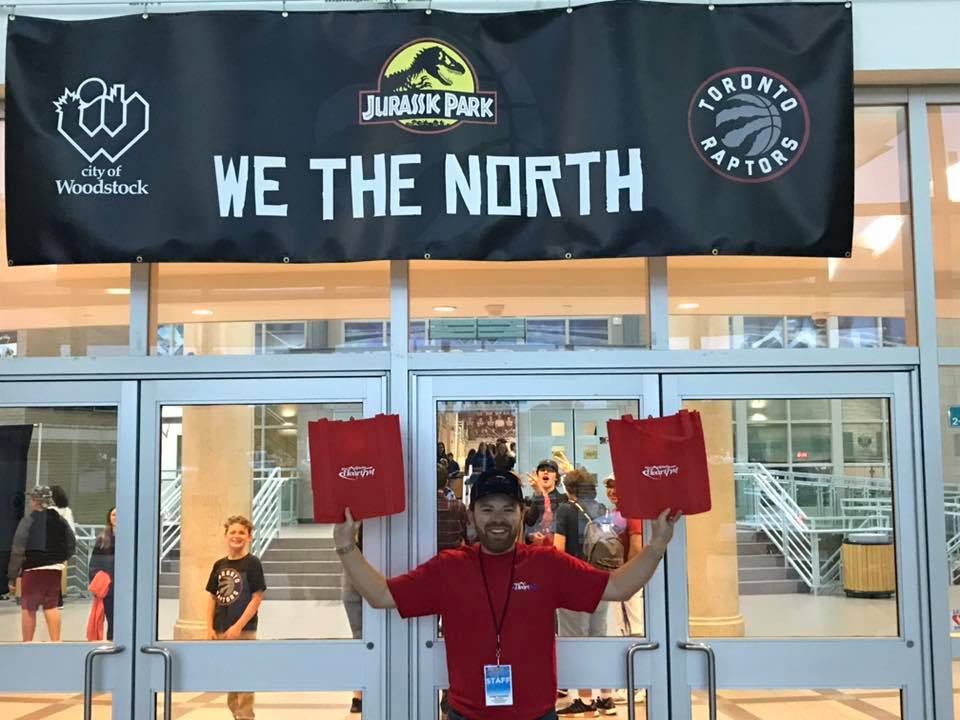 Hundreds of people celebrated the Raptors win at the Community Complex last night. Story includes videos, audio and insights from our local NBA expert Ed Hawkeswood.
WOODSTOCK - The Toronto Raptors are your 2019 NBA Champions.
Raptors play by play announcer Matt Devlin had the iconic call last night signalling the first ever NBA Championship north of the border.
Here is what it looked like inside the Plex when the Raptors won.
Jurassic Park Erupted as the Raptors took the championship! WE THE NORTH!

Posted by 104.7 Heart FM on Thursday, June 13, 2019
Afterwards people were honking their horns and a few vehicles were going up and down the streets, cheering the Raptors victory.
The kids also had fun during half time with some games organized by Why Not Us.
Big thanks to The City of Woodstock for putting together this amazing Jurassic Park and another thanks to Why Not Us for the great half time games. Finally thanks a bunch to Sabrina Storm for hosting the night. ~ Dave

Posted by 104.7 Heart FM on Thursday, June 13, 2019
Stage Manager for NBA broadcasts and local NBA expert Ed Hawkeswood has been an NBA fan since he was kid in the 80's and says last night was special and it is special for the City as well.
"It is fantastic on so many levels, I remember when the Blue Jays got big again in 2015 and the enrollment in baseball was big enough that Woodstock could field two Little League teams and I guarantee that this Raptors win will have the same kind of positive effect. More kids will play, more kids will become interested, it's the most inexpensive sport of any international sport, it is the one that can go global, in terms of having multiple games, in even leagues or divisions in different continents. It is going to continue to grow internationally and Canada, at this great tipping point of growth, is going to be at the forefront of it."
Hawkeswood says TSN put on an amazing broadcast last night and he was happy to see some of his friends enjoy the moment along with the players.
"It is really cool, because Rod Black does incredible work, it is better than a lot of the stuff that American hosts do, he is Canada's version of Bob Costas, he does the Olympics, CFL, basketball and figure skating and he always does a very good job, so to add this prominent recognition to his resume is fantastic. Leo Rautins has a great resume, internationally, in the NBA, on Team Canada and he is now in the upper echelon of broadcasters, he's got perspective having played and now getting to call the Finals, good for him. Jack Armstrong, he is an endearing character, he put in a lot of years coaching, Jack knows his stuff, all of these guys, along with Sherman Hamilton and their guest broadcasters like Alvin Williams, they all deserve a lot of respect on the NBA stage and in the broadcasting world and I think they get it justly."
Kawhi Leonard made three clutch free throws to end the game and give Toronto it's first ever NBA championship.
He was named the Finals MVP. The championship parade is scheduled for Monday.