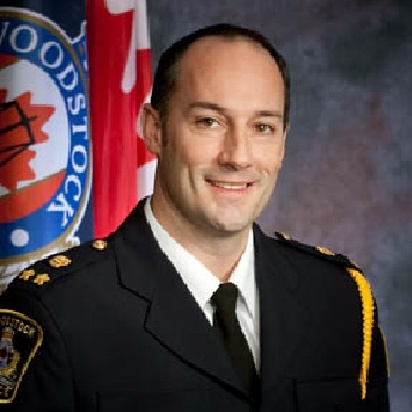 Incoming Chief of Police in Woodstock, Daryl Longworth. (Photo Courtesy: Submitted by Woodstock Police Service)
Currently serving as the Deputy Police Chief for the London Police Service, Daryl Longworth has been named the new Chief of Police for Woodstock and will replace the retiring Bill Renton in September.
WOODSTOCK - The new Chief of Police for Woodstock is already well known in the Friendly City.
Daryl Longworth will replace the retiring Bill Renton in September. Longworth says one thing he wants to focus on is the health and well being of his officers.
"The leadership in Woodstock has been great and it is a really strong organization that I am coming back to. I would like to get the lay of the land, talk to the people, talk to the community, look at the budget situation. I do want to look at how we are treating our people, policing as a career can be very traumatic, and this career can be costly to a persons emotional and mental wellness and I want to make sure we have proper processes in place to make sure we are dealing with our people properly."
Longworth grew up in Woodstock, along with his wife and they still live in the City and have raised all 7 of their children in the Friendly City.
"Woodstock is where my roots are, Woodstock is where my family is and really Woodstock is where my heart is. This is really about coming home for me and I know they already have some great people working there that I have worked with before, they have a great organization and I am looking forward to having the opportunity to put my own stamp on things and work with the people in the organization and see how we can move the bar and make things better for all involved and make Woodstock a place where people can be happy and feel safe in."
Longworth has over 26 years of experience in policing in many diverse operational units, and has extensive technical and supervisory experience in Criminal Investigations, Criminal Intelligence, Drug Enforcement and Tactical Operations.
Board Chair Mary Anne Silverthorn says they are thrilled to have Daryl Longworth back in Woodstock.
The Board is very pleased that Daryl will be the next Chief of Police of the Woodstock Police Service. Daryl has an exceptional skill set which will go a long way towards expanding our service, strengthening community connections and building partnerships. The Board looks forward to working with Daryl as we enter a new phase of policing in our growing community.
Mayor Trevor Birtch, who is a member of the Woodstock Police Services Board and Vice Chair is also happy to have Longworth back.
"We are very excited about Daryl Longworth returning to Woodstock as the Chief of Police. He brings experience from a large service – experience that will continue to enhance our community, and our commitment to serve and protect the members of this community. The selection of Daryl for the Chief's position will be good for the Friendly City."
Due to commitments in London, Mr. Longworth will begin his position as Chief in September 2019.