Coverage Map
Heart FM covers the entire Oxford County trade area and the communities we are connected to!
Broadcasting from the highest point in Southern Ontario - allowing us to cover over 500,000 people from Strathroy in the west to Guelph in the East. From Listowel in the North to Lake Erie in the South we have you covered!

CIHR-FM Woodstock, Ontario, Canada
104.7 FM Stereo
20,000 Watts
Class B1
EHAAT 99.5m
RDS Enabled
Contact: Chris Byrnes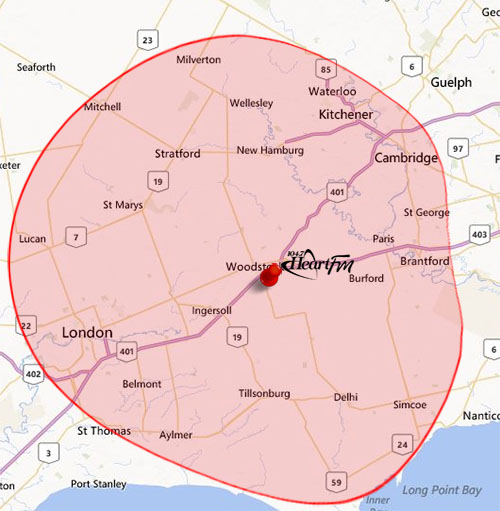 *Coverage Map shows our city grade signal area that a typical car FM radio will recieve.

Having problems receiving 104.7 Heart FM?
FM Radio signals travel in a line-of-sight pattern, if you are outside of our coverage area you may find weak or no signal due to buildings, or terrain blocking our signal. Our FM Stereo signal is received best in a 50km radius outside of Woodstock. There are ways you can overcome this by installing a rooftop FM antenna on your home, or installing a signal booster. These solutions can help out those in the deepest fringe areas of our signal. If you are experiencing interference from another station, on an adjacent channel you may be outside of our protected coverage area. In the Southern Ontario radio market there are many signals, and there are portions where these signals overlap. Listeners to the east of Kitchener and Brantford may find interference from 104.5 FM and the best solution to overcome that is to stream Heart FM online or on your mobile.

104.7 Heart FM uses RDS (Radio Data System) technology. You radio will display current Artist and Title information, alongside weather conditions and a readout saying 104.7 Heart FM. RDS is directly affected by the signal, even with a listenable signal on the fringe of our coverage area you may find RDS data to be incomplete. The best option is to use the "INFO" or "MSG" selections on your radio to receive the last data sent by our Radio Data System.

If you have any questions with the 104.7 Heart FM Signal, feel free to contact us.