You get it – the Grinch's heart grew two sizes that day, Hermey wants to be a dentist, and every time a bell rings an angel gets its wings.
But if you have to watch your kid queue up Elf one more time, you might actually explode.
Here's some movies you can pass off as Christmas movies without actually having to sit through another stereotypical Christmas movie.
(not including Die Hard because Chris McMillian beat me to the punch)
---
Gremlins
No heartfelt, sticky-sweet lessons in this movie - unless you count don't get it wet and don't feed it after midnight!
The whole thing kicks off because a man wants to find a Christmas present for his son. Little does he know giving the cute little mogwai to his son will end up so badly.
But c'mon – how cute is Gizmo in that hat?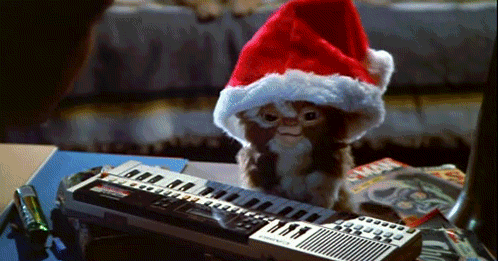 ---
Edward Scissorhands
It's sweet, sad, and deliciously dark. Edward Scissorhands might not be the first movie you think of when decking the halls, but a huge part of the movie is looking at why it snows. Okay, so the whole movie isn't around the holidays, but it plays a part.
Grab a warm mug of hot chocolate, snuggle up on the couch, and hold your significant other close as you watch the story unfold.
---
Batman Returns
Tim Burton makes a second appearance on this list with Batman Returns. There's no denying this is a Christmas movie – there's the lighting of the Gotham Christmas Tree (I don't recommend decorating with bats BTW), Christopher Walken handing out presents, and more mistletoe than you can throw a Batarang at.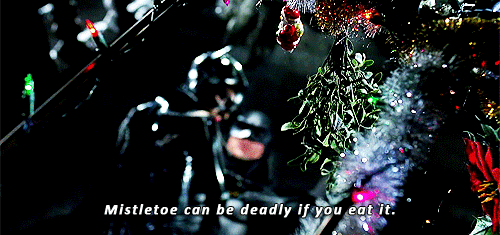 ---
Iron Man 3
Moving from DC to Marvel, Tony Stark gets into some holiday hijinks of his own. He gives Pepper a truly terrible giant rabbit as a Christmas gift, and there's even a 'Ghost of Christmas Past' element in Aldritch Killian.
Not to mention the final battle is backlit by twinkling Christmas lights. Doesn't that give you the warm-and-fuzzies?
---
Lethal Weapon
This is definitely not your typical feel good Christmas movie – in fact its easier to forget that it is actually set at Christmas time with all the non stop cops-and-robbers mayhem and violence. Definitely not one to share with the kids.
Writer/Director Shane Black has already appeared on this list for Iron Man 3, and those aren't his only Christmasy Non-Christmas movies – The Last Boy Scout, The Long Kiss Goodnight, and Kiss Kiss Bang Bang all happen with a yuletide backdrop. In fact Black claims that Lethal Weapon's Christmas setting helped to inspire Die Hard.