As far as the Marvel Cinematic Universe is concerned, Chris Evans is Captain America, but that could all change.
Evans originally signed on for six appearances as Steve Rogers and he'll have met his obligation pretty soon – he's started his very strict workout preparations for Avengers Infinity War and Avengers 4 which will shoot back to back next month. After that, he could be ditching the red, white, and blue forever according to an interview with Esquire.
This news isn't really a revelation to anyone who has followed his career – he has wanted to try his hand at directing for quite a while now.
But it leaves an important question to be asked – who will take up the shield?
Will Marvel continue the Cinematic Universe without Cap? Should someone else take up where Steve Rogers left off? If so, who?
Here's my take on it, but beware there are potential spoilers from the comics.
---
There are already at least two characters poised to take over if Steve Rogers decides to walk off into the sunset –Sam Wilson AKA Falcon and Roger's best buddy Bucky Barnes both took over the gig in the comics.
If they are going to replace Cap, my money is on one of these two.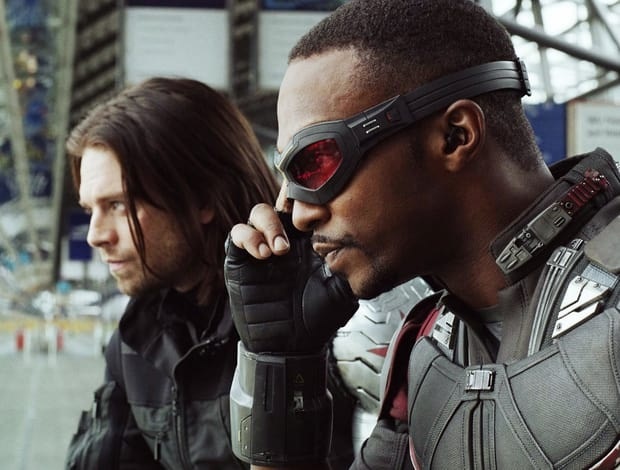 Anthony Mackie as Falcon and Sebastian Stan as Bucky Barnes in Captain America: Civil War - Photo Courtesy Marvel Studios/Disney
I would love to see Sam take it up because up to this point his character hasn't really been well fleshed out. We see very little of Falcon, and when we do it's usually either for a quick quip or to act as a listening post for Steve Rogers. Seeing them finally give him his due would be a breath of fresh air. There's a lot to dig into with Falcon – not only was he a military combatant, through the comic history he was a social worker for inner city youths and in The Winter Soldier he was leading a support group for people living with PTSD. He would be the perfect replacement to lead the Avengers balancing both the raw brawn and the brain needed.
And let's not ignore the elephant in the room – up to this point the MCU is…well, let's just say it's not very diverse.
Right now I don't think Bucky Barnes is ready to take up the mantle quite yet. He's still deeply entrenched in the Winter Soldier storyline and has to worry about saving himself before he can worry about helping to save the world. As much as I think Sebastian Stan would rock the role, I think we need more Bucky learning how to be himself again. Personally, I'd love to see a short spin off series with Bucky and Natasha Romanoff. Civil War gave a subtle wink to the pair's sordid past, and I really hope they expand on that. Give me a short Netflix series run on Black Widow and Winter Soldier – that's all I ask.
And as for America Chavez and the Young Avengers taking over for the original MCU Avengers in Phase Four, I just don't see it happening. We haven't been introduced to any of the characters yet and I think we'll be a little too busy, you know, fighting Thanos over the Infinity Stones. Too bad though – I think fans would really dig Kate Bishop as Hawkeye.
---
So what do you think? Do you agree with my pick? Or do you think they'll lay the shield to rest for good – it's not like Marvel has a shortage of characters to bring in.
Photos courtesy Marvel Studios/Disney