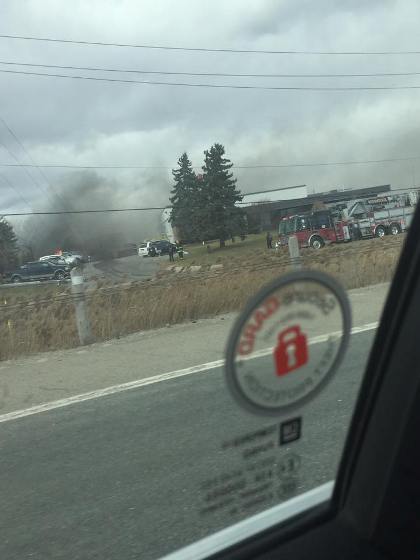 Listener Submitted Photo
A downed hydro line caused three vehicles to catch fire in Laidlaws and much of the city is without power this afternoon.
WOODSTOCK - Nobody was injured after a fire at the Laidlaws parking lot in Woodstock.
Fire crews were called out to the trucking company on Athlone Avenue after a downed hydro line caused three vehicles in the parking lot to catch fire. Fire Crews are still at the scene and Hydro One workers are there as well trying to assess the damage.
The severe winds have caused several power outages in the City today. Right now Hydro One says they are assessing the damage and will not provide a timetable for when the power will be restored at this time.
The area of Athelone Ave and Juliana Drive will remain closed to allow for the clean up and investigation.
Woodstock Police say they found a number of motorists on the 401 were stopping to watch the fire.
This presents a significant risk to the other motorists on the highway as they slow down to stop and then when they proceed to merge back onto the highway. As witnessed on area roads yesterday these secondary incidents pose a significant risk to the other users of the highway.