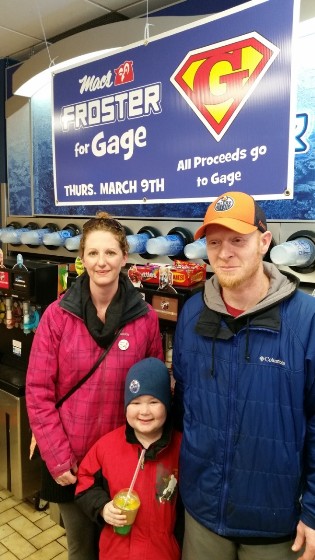 Still time to head down to Mac's on Devonshire and grab a Froster today to support a great local cause.
WOODSTOCK - Don't forget to grab your Froster from the Mac's on Devonshire today and help support a great cause.
100 percent of Froster sales today will go towards the Foster family in Woodstock. Little Gage Foster is currently dealing with brain cancer and the school has done a number of fundraiser's for the family. The owner of the Mac's on Devonshire Paul Smith explains how they started this fundraiser.
"My son's a classmate with him and the school actually was doing some fundraising at the school and they were donating dollars to guess how many gum balls are in a jar and my son came home and said Daddy you own a gum ball store, can we come to your store and guess how man gum balls you have for a dollar."
Smith says already they have had a ton of people stop to grab a Froster Students from Gage's school St. Michael's Catholic Elementary School are coming down one classroom at a time.
Already they have had plenty of people stop by to grab a Froster and throw some money in the donations bin. The President of Mac's has also agreed to match the donations that pour in today.
Gage's parents stopped by the store this afternoon and we're absolutely blown away by the support from the community. His mother Sarah explains her reaction when she heard about this fundraiser.
"I started to cry of course, I'm the emotional one, it's overwhelming obviously the support we have received from the community, it's unbelievable."
Gage is currently going through radiation treatment and after that he will likely go to Sick Kids in Toronto but that is still up in the air.