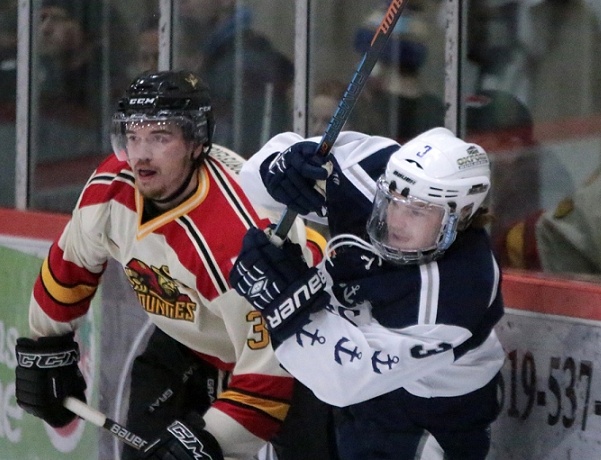 The Woodstock Navy Vets are on their way to mix it up with the Mounties in their quarterfinal series
The Woodstock Navy Vets begin their playoff series with the Mounties tonight.
Head Coach Adam Wallace says this hasn't been an easy year for them, but they have proven they can overcome the challenges.
"The guys have had to battle a lot of adversity: guys injured, sick, missing for exams - we had a lot of guys who are in their first year of college - we're missing guys in certain situations that in years prior we wouldn't have been missing them. But that's growing pains that you just have to roll with."
Woodstock finished 6th in the standings this year and will face the number 3 seed Paris Mounties in the playoffs. Wallace says he thinks Woodstock stands a good chance.
"I think we could do alright against these guys. Over the last two years we've come out a draw between winning and losing games against them. So I feel that we're quite evenly matched with the Mounties this year."
The game tonight will be in Paris at 7:30 p.m. and then the Navy Vets will come back to Woodstock for Friday night's game at 7:45 p.m.