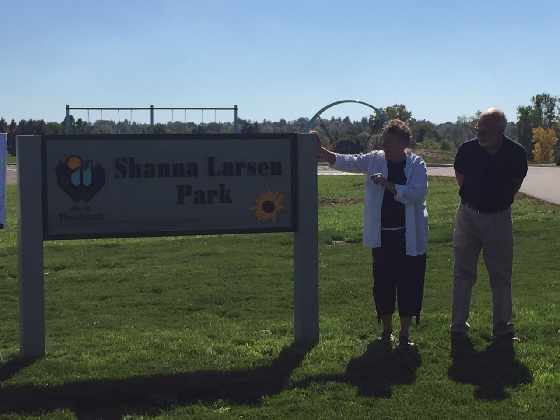 A new park on Upper Thames Street has been named after Shanna Larsen, who was involved in numerous kids' sports in Woodstock before she died of breast cancer in 2005.
WOODSTOCK - Woodstock's 53rd park has been dedicated to one of its former residents.
The park on Upper Thames Street has been named after Shanna Larsen, who passed away due to breast cancer in 2005 when she was 24 years old.
As of right now kids play equipment and benches are set up, but there's more work to be done. Supervisor of Parks and Forestry Chris Kern says it could be years until the park is complete.
"Typically a park takes four years to be completed just to phase it in so that it spreads the cost of the park out and as well gets people playing on it and using it without the high lump sum cost."
A shade structure is slated to be built in 2017 and a basketball court will be added in 2018. More trees will also be planted in the area and Kern says they looking into the possibility of a trail system.
Shanna's mother, Lorna Larsen believes Shanna would have loved the park if she was still here today.
"Shan would be so thrilled because she worked with children; she was a figure skating coach, a swimming instructor, and she coached soccer here in Woodstock as well. She would be so thrilled that the children would be able to enjoy this park of all ages."
An official ribbon cutting ceremony was held this morning, with Shanna's friends and family along with Mayor Trevor Birtch and numerous city counsellors in attendance.