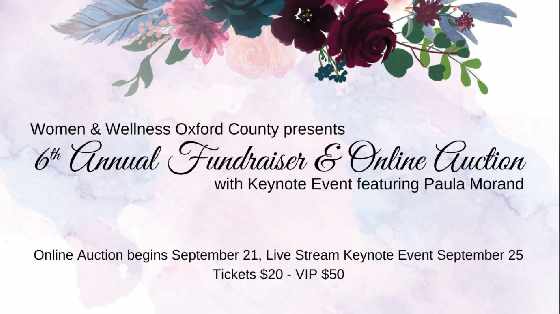 The event will be online this year on September 25th featuring keynote motivational speaker Paula Morand, along with an online auction, live music and more.
OXFORD COUNTY - You can book your spot now for the Women in Wellness Oxford County Evening of Unwavering Hope.
The fundraiser for CMHA Oxford is moving online this year with a virtual format on Friday September 25th. Women and Wellness Oxford County has donated over $80,000 to Oxford County Walk-In Counselling since 2015, and has an ambitious goal of raising $40,000 at this year's event.
The night will feature keynote motivational speaker Paula Morand. Morand is a 14x multi-award-winning entrepreneur and author who is passionate about helping entrepreneurs and subject matter experts be seen, be heard and grow their impact. She has been featured on Lifetime Television, Success Magazine, Profit Magazine and the Financial Post and is recognized as a global change maker.
Morand explains what she Unwavering Hope means to her.
"The power of resilience, being able to shift your perspective and how really having bold courage and learning how to dream big and be bold can really give you that gift of a renewed sense of purpose and even an hunger to make a renewed sense of impact with your life."
The evening will also feature a special performance from her son, recording artist Connor Morand. Connor is an award-winning musician from London who has been featured on multiple TV and radio networks across Canada, and has performed inmultiple countries internationally, including Germany, Italy, Thailand and Malaysia.
The online auction will begin on Monday, September 21st, with an array of items for all bidders, from cozy quilts, to passes to beautiful golf courses, and special surprise experiences. The auction is only available to ticket holders for the Keynote Event.
Tickets can be purchased online. VIP Tickets must be purchased before September 14, 2020, to ensure VIP ticket holders receive their gift basket in time for the event.