About Lainger


About Lainger
Click Here to return to the Heart FM Mornings show page
About Paul
It was time for an update... and I hate talking about myself in a bio. It always sounds like you are bragging and that's not who I am. So, I asked my friends to write about me.
Tresa:

I think your impressions during Birthday announcements are an under-appreciated skill. But she's slightly hard of hearing so... that explains a lot
Denise: I'm

Funny AF

(I think that means after Friday, which I don't think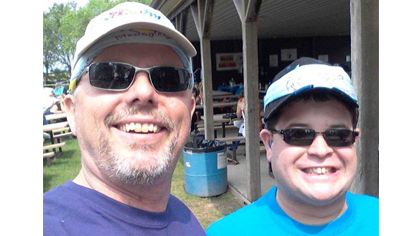 is a compliment about my on-air abilities.
Delores:
Your infectious laugh. You'll be happy to note, after my trip to the doctor... that is the only infection I still have.
Peter:

Just can't think of anything nice to say except you don't smell too bad. Pete knew me in my 20's.........I break wind more now at this age.
Roy Raeder:

Award-winning documentary producer.

(that is true, the award is in my office)
Deborah:
"He" was not born a man! No sir! He was born an infant and enjoyed being a little baby sooo much, he never grew up - just out, way out!
Chris Leggat: likes my organizational skills putting together the High School Reunion each year... what she's really saying is she doesn't want to do it.
Irene: brought up the fact that I worked with a man with a great heart in North America's Largest Geographical City,
Timmins, the City with the Heart of Gold for CKGB and the unforgettable Red Hot Kohls and his imaginary Percy Footlap. Those were the days!