You Snooze...You Win!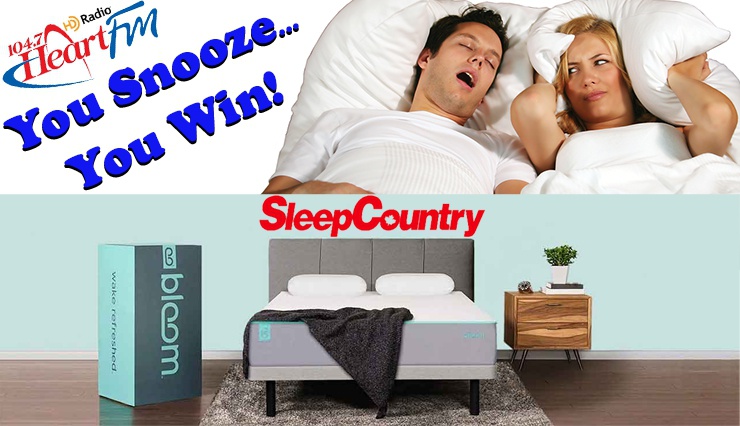 WIN a Bloom Cloud Bed Package!
Heart FM & Sleep Country have partnered to give you the chance to win!
We want to hear your best snore!
Contest Rules/Details:
Submit your best snore (either from yourself or your special someone)

From March 8th-19th Heart FM Mornings will showcase the best snore and you be a qualified

This contest will run until March 19th

The winner will be announced on March 21st

One lucky listener (with the best snore) will win a Bloom Queen Mattress, 2 Ploom Pillows, Bloom Box Spring, an Essential Sheet Set, and a Microgel Duvet

The package is valued at over $1,700

This contest follows the Standard Heart FM Contest Policy

Those who have won in the past 30 days cannot enter
When will the winner of the bed package be announced?
The Winner will have their name announced on Heart FM Mornings with Dan & Marcie on March 22nd
Good Luck & Enter Below!
Your Comments
Posted on March 19th, 2021 12:37pm
Posted on March 19th, 2021 5:05am
Posted on March 19th, 2021 12:38am
Posted on March 18th, 2021 10:00pm
Posted on March 18th, 2021 6:37pm
Posted on March 18th, 2021 5:19pm
Posted on March 18th, 2021 11:46am
Posted on March 18th, 2021 10:35am
Posted on March 17th, 2021 8:00am
Posted on March 17th, 2021 12:46am
Posted on March 16th, 2021 11:36pm
Posted on March 16th, 2021 10:22pm
Posted on March 15th, 2021 12:40pm
Posted on March 14th, 2021 8:16pm
Posted on March 14th, 2021 6:50pm
Posted on March 14th, 2021 2:11pm
Posted on March 14th, 2021 12:56pm
Posted on March 14th, 2021 10:53am
Posted on March 13th, 2021 11:45am
Posted on March 13th, 2021 7:31am
Posted on March 12th, 2021 9:26pm
Posted on March 12th, 2021 9:20pm
Posted on March 12th, 2021 6:50pm
Posted on March 12th, 2021 3:20pm
Posted on March 12th, 2021 10:11am
Posted on March 12th, 2021 8:21am