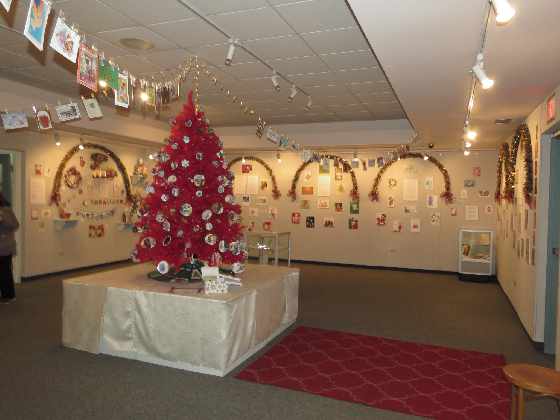 Submitted
The latest exhibit at the Annandale National Historic Site examines the history of Christmas cards and runs until January 5th.
TILLSONBURG - A exhibit looking at the evolution of Christmas cards is happening at Tillsonburg's Annandale National Historic Site.
"From Candy Canes To Snow-Covered Lanes" showcases a variety of cards, beginning with the first one made in 1843.
Museum Program Coordinator Kathleen Watkin says it also has cards that are donated by members of the community.
"You will see as Christmas cards progress, they go from small post cards to quite large Christmas cards. There's a colour changes, there's also a theme change, the original Christmas cards originally had flowers and flowers on them. What we would see of Christmas cards today was the Santa Claus and reindeer, etc until after World War II."
She adds the public will also learn how Christmas cards were actually discontinued during World War 1. She says there are also Christmas cards from World War II on display, featuring not only cards that were sent by Canadians to those in the war, but ones that were created by the soliders.
Watkin says the holidays serve as the best time of year to attend the Museum.
"Christmas cards are a very important part of the holiday season. It's also a wonderful time to come to the Museum, as I said, it's lit with all the Christmas decorations. So not only will you be able to see our exhibition Christmas cards, you'll be able to visit the house and see all the Christmas lights there as well."
The exhibition is free and it runs until January 5th.