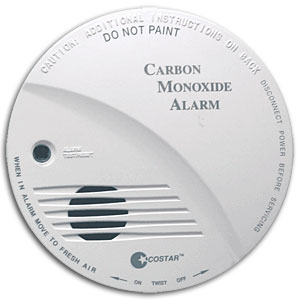 The Woodstock Fire Department will be tagging along with local pizza delivery drivers this Carbon Monoxide Awareness Week, buying dinner for those who have working co alarms in their home.
WOODSTOCK - It's Carbon Monoxide Awareness Week in Oxford County and beyond.
Carbon monoxide is a colourless, odourless gas which could be lethal if it's found inside the home.
John Gignac founded the Hawkins-Gignac Foundation for CO Education back in 2009, a year after losing his niece Laurie Hawkins to carbon monoxide poisoning.
"Back in 2008, we had a tragic accident in Woodstock where we lost my niece, her husband and both of their children to carbon monoxide. They didn't have a co detector and unfortunately they didn't have their fireplace checked and it brought carbon monoxide gas into their home and took their lives."
Gignac worked with Oxford MPP Ernie Hardeman to make carbon monoxide alarms mandatory across Ontario. The alarms are also mandatory in the Yukon and Saskachewan recently passed a legislation to make them mandatory as of June 2022.
Woodstock Fire Chief Jeff Slager says you should check your co alarms once a month.
It's a good idea to check them this week, because the Woodstock Fire Department will be tagging along with local pizza delivery drivers. They will offer to check your co alarms for you and even pay for your meal if everything checks out.
Slager says carbon monoxide alarms must be located outside all of your sleeping areas and you need to pay close attention to the expiry date.
"One the ones that are manufactured today, they have to have a sticker on them that says replace by. So even if you've bought a 10-year alarm but it's already been on the shelf for a year or been in processing, you may only have it in your home for 9-years. Be aware of that date because that is when it needs to be replaced."
Gignac and Slager stopped by the Heart FM studio to chat with Dan and Marcie about carbon monoxide safety on Thursday October 28th and you can listen to the full interview below: