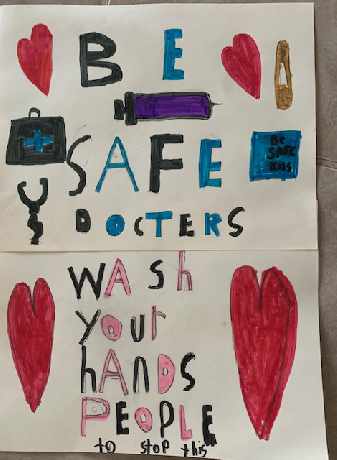 (photos submitted)
The Woodstock School of Dance And Yoga began a few weeks ago posting fun challenges on their social media, encouraging kids to complete the challenges and stay busy while at home.
WOODSTOCK - With so much free time now, kids are taking to social media. So to ensure they are using the online platforms in a positive way, the Woodstock School of Dance And Yoga has started a kindness challenge.
It is geared towards kids to help them create more positivity online.
Owner Allison Drost says the initial post was on the studio's Facebook page.
"We're trying to create these challenges for kids to do and stay engaged while they're not in school, just basically being able to help give back to the community while they're doing that."
The initiative started a few weeks ago and their second challenge was posted on their Facebook and Instagram last week. Their second challenge right now asks kids to write a thank you letter to a doctor, nurse or medical staff they know.
The first challenge asked kids to submit drawings of themselves doing something fun at home and the studio would then send the artwork to local community retirement homes.
Drost says this kindness challenge may change the way kids socialize with each other when they return to school.
"That's what we kind of trying to foster is that when the world is kind of falling and you don't necessarily know where the next direction is, there's always going to be helpers around and there's always going to be kindness and that's one thing that you do have control over. And right now I don't think that we have a lot of control over our situation but you do have the ability to be kind, always. And I'm hoping that that message will resonate with kids as they go through this challenge and hopefully move further in their lives."
Each post should also include the hashtag #twsdykindnesschallenge.
Following the completion of the second challenge, kids can either send their letter to the studio's email at info@woodstockdanceyoga.com or post it on the studio's Facebook or Instagram.
Drost adds they'll be doing as many challenges as they can, posting every few days to keep the kids busy.
If you are interested in participating in the kindness challenge, you can email info@danceyoga.com or send them a message on Facebook or Instagram.
(photos submitted)