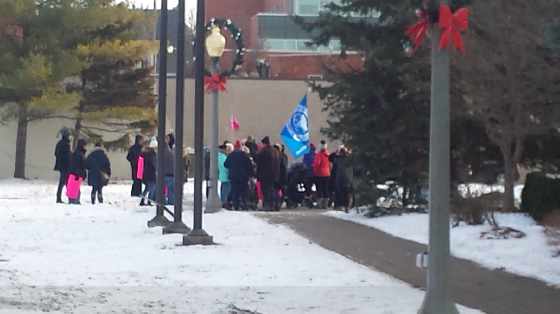 Woodstock Women's March
About 30 to 40 Woodstonians participated in the 1st ever Women's March in the Friendly City.
WOODSTOCK - Lots of people gathered in Market Square for the first ever Women's March in the Friendly City.
About 30 to 40 Woodstonians showed their support on Saturday; which was the one year anniversary of the historic walk in Washington DC.
Organizer Kate Leatherbarrow says they were representing women, equality, social justice and democracy.
"We want to bring change to Woodstock. This is happening across the globe and we as a small municipality want to remain current and support the rest of the world and the women, children and men that support us."
Leatherbarrow has been making local headlines lately, pushing for a ban on graphic images in public places.
"We just want to make sure our city council remains progressive and puts in policies, restrictions and regulations to better protect our people seeing as we need to remain current with national and global issues."
Leatherbarrow presented a delegation to council late last year, but a bylaw was not passed because it would impact freedom of speech. A Pro Life Group did attend the march as well with anti abortion signs.