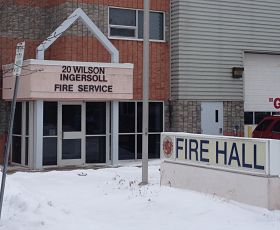 The Ingersoll Firefighter Training Centre gets a boost from Enbridge Pipelines Inc.
INGERSOLL - Firefighters in Ingersoll are half way to a new Firefighter Training Centre.
That's due to a $10,000 donation by Enbridge Pipeline Inc.
It's part of Enbridge's Safe Communities program which gives out more than two million dollars to emergency service providers every year.
Ingersoll Fire is hoping to convert three metal shipping containers into a facility which will help train firefighters using real scenarios and live burns and have it up and running by the end of 2016.
The cost of the project is $20,000.
Enbridge Pipeline presented the cheque to the Ingersol Firefighters at the end of November.