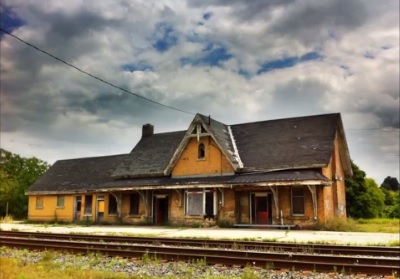 (TikiTrex/YouTube screen capture)
The Town of Ingersoll wants CN to either repair or raze its run-down former train station
INGERSOLL – The Town of Ingersoll will ask the Canadian National Railway to do something about their dilapidated former train station located at 45 Thames Street South.
"We're asking CN to make a decision on [the building]," said Mayor Ted Comiskey.
"Whether they're going to fix it up and put it back into a condition of usefulness, or whether they're going to remove it before some trespasser is hurt badly," he said.
The historic building has deteriorated to an unsound state. It's apparent people have been bypassing its boarded up windows and doors and trespassing in the crumbling structure.
"We're very, very nervous about somebody getting hurt or something happening that would be disastrous," Comiskey said.
The station was constructed in 1886 by Great Western Railway. In 1979, VIA Rail took over train operations on the line and abandoned the station in favour of a wooden-frame shelter built next to the old station, according to a staff report.
The run-down building is on federally-owned land and therefore the municipality has no jurisdiction over it.
"Even our own by-laws don't apply to the condition of the building. All we can do is bring it to the attention of [CN] and then hopefully they will address the situation," Comiskey said.
Due to the style of construction used to build the old train station, moving or restoring the structure would be expensive and "very, very difficult."
"It likely would crumble if you tried to somehow excavate it up out of there," he said. "Then you would have certainly the soils that are around there with the old train station that would be contaminated."
"It's a really tough, tough situation," Comiskey said. "It would have to be totally dismantled and rebuilt."
The building is listed on the town's Municipal Heritage Inventory, however it hasn't been designated under the Ontario Heritage Act or the Heritage Railway Stations Protection Act, the staff report states.
Town council approved sending the letter to CN at a council meeting Monday night.