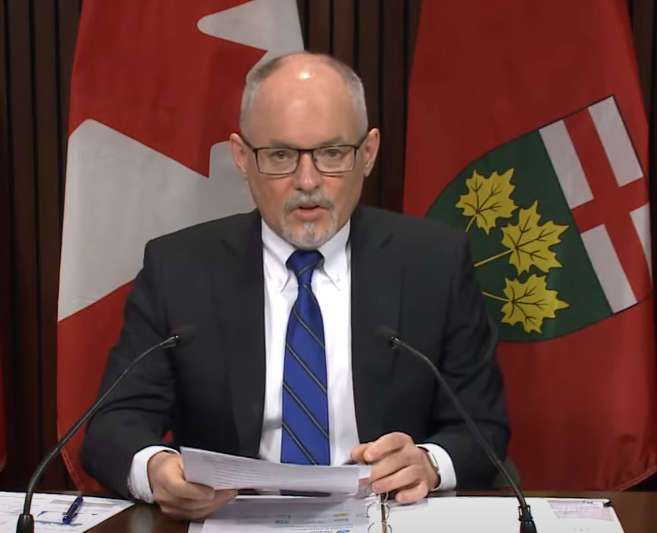 Dr. Kieran Moore says we can expect an increased risk of getting COVID-19 in the next 6-8 weeks as the Province battles the 6th wave of the pandemic.
Ontario's top Doctor met with the media today for the first time in over a month.
Dr. Kieran Moore announced the expansion of PCR testing and increased access to the COVID-19 antiviral treatments to high risk people.
"I am pleased that we will be able to offer more accessible antiviral treatment options to more people across Ontario. I ask everyone across Ontario to continue doing their part to keep their communities and loved ones safe by staying up to date on vaccinations and wearing masks."
Starting today, the following higher risk groups will be eligible for the antiviral treatments in Ontario:
- Individuals aged 18 and over who are immunocompromised (have an immune system that is weakened by a health condition or medications);
- Individuals aged 70 and over;
- Individuals aged 60 and over with fewer than three vaccine doses; and
- Individuals aged 18 and over with fewer than three vaccine doses and at least one risk condition (e.g., a chronic medical condition)
Anyone who is eligible for an assessment is now also eligible for a PCR test at any testing centre in Ontario.
Dr. Moore encourages mask wearing during this 6th wave of the pandemic, but stopped short of making it a mandate again. Dr. Moore says he expects the COVID-19 trends will continue to increase in the coming weeks, before slowing down again in June.
He estimates 5.3 to 6 million people have been infected with the Omicron strain since Christmas. The fact that more people didn't end up in the hospital is a testament to being immunized according to Dr. Moore.