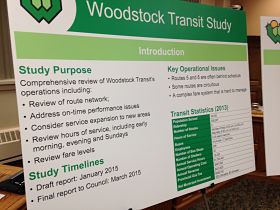 Residents gathered in Woodstock City Hall to give their opinions on a study of city transit.
WOODSTOCK - The City of Woodstock held an open house for the public to give their input on a transit study.
Many residents from the community visited City Hall where a presentation was set up to share the transit study findings.
City of Woodstock, city engineer Harold de Haan said the study focused on three areas, "Routes, hours of service and fare structures and we've determined a few options or alternatives in each of those three areas." Residents who attended the open house said they were concerned with some of the options that were presented.
Pam Livingston rides the bus daily and said option number 1 for the routes was not ideal, "Plan 1 taking away the bus stop at Walmart is ludicrous that bus stop gets used all the time." Livingston adds the stop is crucial for accessing multiple services, "Everything is there, you have banks, a drugstore, you have shopping, you have clothing stores..."
FARE OPTIONS:
1. No change.
2. Increase cash fares by 25 cents and passes by 10% beginning in 2015 and every two years for adult/senior/and student pass to $44/$55.
3. Increase cash fare to $2.50 now, passes to $46/$58 etc, then add a 25 cent increase to passes every two years.
HOURS OF SERVICE OPTIONS:
1. Earlier morning start beginning at 6 a.m.
2. Evening Service:
-until 10 p.m. on Thursday and Friday.
-until 10 p.m. Monday to Saturday.
-10 a.m. to 6 p.m. Sundays.
ROUTE OPTIONS:
1. Minor changes to routes including the removal of routes servicing the Smart Centre area on Norwich avenue.
2. Expansion of service including a route to Commerce Industrial Park, would result in loss of service to existing areas.
3. Expanding to 7 routes, improved service to Norwich shopping and employment area however would require an additional bus at a cost of $300,000.
de Haan says the final conclusions from the study are expected to be presented to Woodstock City Council in March of 2015. Council can choose to accept or disregard the changes at that time. If any of the changes are selected, de Haan says it would be at least 6 months before they would be implemented. During which time an advertising campaign will be undertaken to inform the public.
A copy of the study findings will be posted to City of Woodstock website.