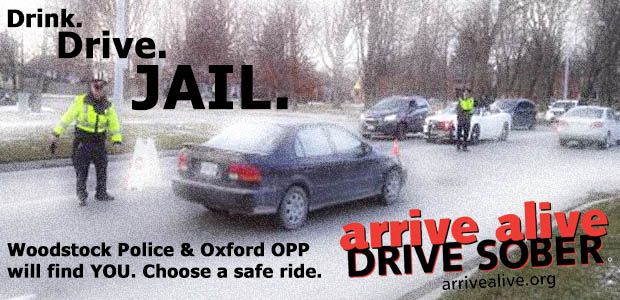 Nine drivers will be heading to the Woodstock Courthouse, after they encountered the Oxford OPP over the holidays.
Drunk driving appears to be on a downhill slide in Ontario.
OPP charged 587 drivers in their Festive RIDE (Reduce Impaired Driving Everywhere) Campaign this year, and issued 366 Warn Range Suspensions. This is compared to the 623 charges and 407 warnings reported last year.
Constable Stacey Culbert talks about some of the local stats from 2017.
"We conducted over 58 RIDE programs; there were nine charges out of that. Those charges would have been anything relating to impaired, maybe care or control or over 80."
Only two warnings were issued locally.
The annual campaign kicked off on November 24th 2017 and wrapped up on January 2nd 2018, but Culbert says they are always on the lookout for impaired drivers.
"The OPP officers are out there enforcing those driving laws around the clock, 365 days a year. We just want to remind the public to call 911 if you suspect that someone is driving impaired and that could be either by drugs of alcohol. By doing so you could be saving people's lives."