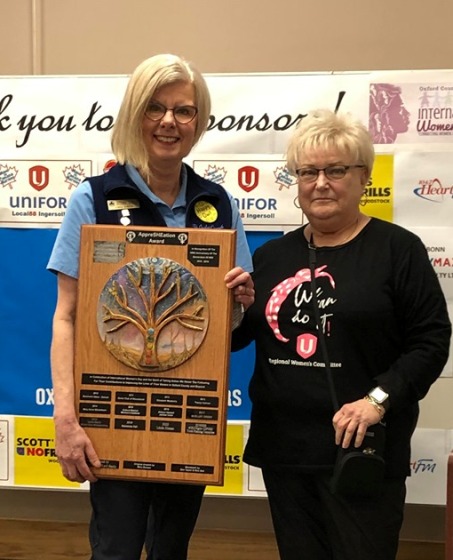 Linda Dineen receiving the AppreSHEation Award (adult) from committee member Pat Bonn in Ingersoll
The AppreSHEation Award recipient in the 18+ category has been working with Girl Guides of Canada for 31 years. Linda Dineen also volunteers her time with BBBS Oxford, local hospitals and the Ingersoll Creative Arts Centre.
INGERSOLL - The AppreSHEation Awards were handed out on Sunday in Ingersoll.
The awards were presented at the Oxford County event celebrating International Women's Day at the Unifor Local 88 Hall. Those in attendance got to enjoy a fabulous pancake brunch, network, visit interactive booths and of course the main event was the AppreSHEation Awards.
This year the committee handed out two awards, one for youth, under 18 and then one for adults. Linda Dineen was selected for the 18+ award for her volunteer work in the community. Dineen has donated countless hours to the community and has really stepped up her volunteer game since retiring from her role as the group mentor program coordinator with Big Brother Big Sisters in St.Thomas.
Dineen currently volunteers as a mentor with Big Brothers Big Sisters of Oxford. Most recently, she took on the role of the family and patient advisor with the Alexandra Hospital and the Tillsonburg District Memorial Hospital. She is also very involved at the Ingersoll Creative Arts Centre as the coordinator of their exhibitions.
It was Dineen's love of volunteering with Girl Guides of Canada for nearly 31 years that really caught the attention of the award selection committee.
Dineen encourages other women to consider volunteering as a Guide as she will be retiring from Girl Guides as "Happy Owl" in June of this year.
"Guiding affords women who volunteer the opportunity to challenge themselves in different ways they may not have before, you are often learning new skills yourself. It is everyone's responsibility to give back to the community."
Dineen adds it was an honour to win this award.
"To be singled out as an individual is humbling but it also feels a little foreign, because you don't do it for those reasons, you know I am humbled and I am honoured."
This was the first year a new committee organized the event. Sabrina from Heart FM Mornings is a committee member and returned as host for the third year, she says the event was a success in many ways.
"The committee is comprised of several women, dedicated to improving the lives of women and young girls in the community. Each committee member volunteered their time to bring Oxford County an amazing event, lead by Unifor's Dawn Leroux and Linda Leyten. The commitment of these women speaks volumes and it was our mission to show women of Oxford County that they are valued and when you have an event that recognizes women, and inspires them, we consider that a success."
High School students Hailey Cocker and Emma Jull won the AppreSHEation award for youth. They were the main organizers of this years Grow Girls event. We plan on doing a feature story on them soon, so watch for that in the news this week.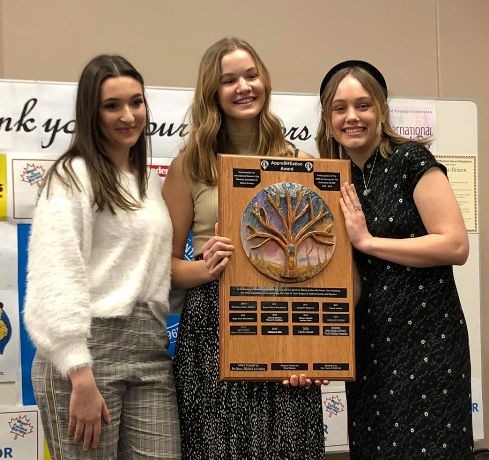 (left to right) Makenna Hall presenting the Youth AppreSHEation Award to Hailey Cocker and Emma Jull