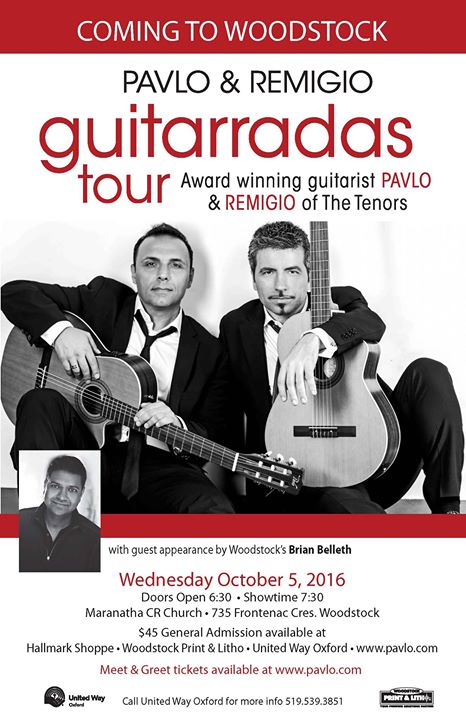 A charity concert in concert featuring the rogue tenor who changed the lyrics to Oh Canada has been cancelled.
WEB - The Rogue Tenor who has made international headlines for changing Canada's National anthem had a show booked in Woodstock for October.
Remigio Pereira was supposed to come to Woodstock as part of the Pavlo and Remigio Guitarradas tour on Wednesday October 5th at the Marantha Church. The Aeolian Hall in London has already cancelled one of Remigio shows because of his controversial choice to change the lyrics to Oh Canada. Pereira shook the twitterverse on Tuesday when he changed the lyrics in Oh Canada from "With glowing hearts we see thee rise, the true north strong and free," to "We're all brothers and sisters, all lives matter to the brave."
The show was for charity and the organizers have decided to cancel the event in light of Pereira's controversial decision. Executive Director with United Way Oxford says this was a third party community event with the United Way being selected for the fundraising dollars. We are disappointed, the quality and the talent is spectacular and we were excited about what that opportunity would mean for the community but it was a fundraiser and with the recent situation which is quite disheartening, the ability to then raise the funds that were planned to be raised have probably been diminished and we agreed it is probably best to cancel it at this point."
"I have been speaking with the organizers and we have come to an agreement that at this point in time there was no other option other than to cancel the show.
Pereira has faced a lot of online backlash from Canadians who were offended by him changing the lyrics and by Black Lives Matter supporters. One of the most famous and outspoken Canadians Don Cherry weighed in on the matter with his twitter account saying...
"It's strange, I met these Tenors and they seemed like good guys. I told my buddies, boy don't they look good in their suits and ties, they will make us proud. " and then one of them did his thing with our anthem. Can you imagine what the American's think of us now? We Canadians are taking the hit for that performance and it was done by an American. Oh well, all the left wing weirdo's in this country are happy. But I do feel sorry for the rest of the Tenors. They will be noted forever, as "oh yeah, the Tenors, they're the jerks that embarrassed us at the All Star game. Ah, they're good singers but what a bunch of jerks." It's sad, it was only one, and it was done by an American."
Pereira for his part did not apologize for the statement but did defend it on his Facebook page.
"This was not a political statement. I don't agree with killing. So if I don't agree with killing, it means that I don't agree with black people dying. I weep when I see videos of a man just trying to sell a CD and he gets killed and murdered. Just like I weep if I see a cop get killed, because my cousin is a cop and I know that they put their lives on the line every single day for us.