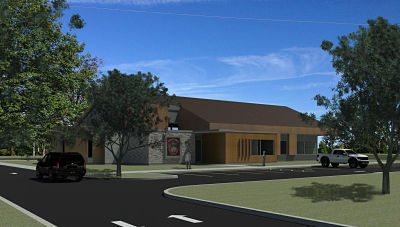 Township of Norwich staff have to wait nearly a month longer to move into new Administration building.
NORWICH - It will now be mid-January before staff take up residence in the new Norwich Administration building.
Director of Finance for the Township Michael Legge says this were hoping to be in by this Friday. "With delays of a few supplies for the building and getting the fine touches done, we have pushed it back a few weeks so we are looking at January 16 now as our move date."
Legge says some exterior work will still need to be completed once staff is inside the building. "The interior is getting fairly close to completion. We still have quite a bit of flooring to go down as they complete the painting right now and some mill work that has to be done but the inside should be ready for us other than maybe a few fine touches right at the end."
"What we are planning on doing, we are going to close at 4:30pm Thursday, January 15 and we are going to reopen at the new facility on Tuesday, the 20th at 8:30am so basically our offices will be closed for two business days in order to try and get everything set and ready to roll."
Legge says some siding and landscaping likely wont be complete until the spring but the delay will not have an impact on the budget.