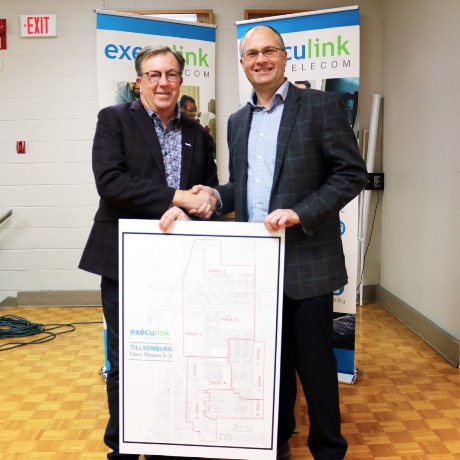 Execulink Telecom is going to bring Fibre to the Home services to the Town of Tillsonburg. 
TILLSONBURG - Execulink Telecom is going to bring Fibre to the Home services to the Town of Tillsonburg.
Installations will start this summer. President and CEO of Execulink Telecom Ian Stephens says that once the project is complete, customers will have access to lightning-fast Internet, crystal-clear TV and reliable Home Phone solutions.
"Tillsonburg is a flourishing town rich with innovation and economic development. Its progressiveness fits the mold of our target build communities and is a suitable choice for introducing new technological advancements. Our mission is to bring residents and business owners that awesome telecom experience they deserve and improve the day-to-day lives of the local growing community with our Fibre services."
The announcement was made yesterday at the Tillsonburg Community Centre. Local Dignataries were on hand for the event including Mayor Stephen Molnar and Deputy Mayor Dave Beres.
Fibre to the Home is the delivery of a communications signal over optical fibre. In comparison with other methods of delivery, Fibre's underground infrastructure is unaffected by weather and allows for reliable TV and Phone services, with some of the fastest Internet speeds in Ontario. Molnar says they are really excited for this to come to Tillsonburg.
"This is an Oxford local success story and we welcome Execulink to the town of Tillsonburg. Execulink and their entire vision goes back years, and has always been at the root of community. We recognize this investment as we proceed together down this pathway of innovation and partnership."
The Company has already established a partnership with the Tillsonburg Community Centre as a Wi-Fi provider and anticipates collaborating with more community organizations in the future.