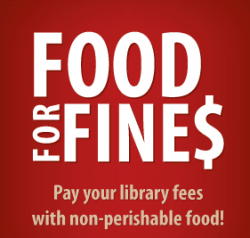 The County Library program is back on until December 31
OXFORD COUNTY - It's that time of year again where donating canned goods will wipe out your outstanding library fees.
CEO and Chief Librarian Lisa Miettinen says the Food for Fines program is a long standing practice for Oxford County libraries.
"We think it's a great program for everyone involved. The food banks benefit and we recover a number of overdue items and see a number of people come back to the library who might have been discouraged from returning due to the fines on their account."
"On average we have been able to donate over $1000 in cash each year to the Salvation Army and close to 100 boxes of food to the various food banks in the County as well," continued Miettinen.
Miettinen says no matter how high your fine is, there is no minimum food donation to have it withdrawn. The program started back in the 1990s and runs in both June and December.
Food for Fines is on until December 31 but Miettinen adds only Ingersoll and Tillsonburg libraries are open that day so it's best to get in right away to take advantage of the program.