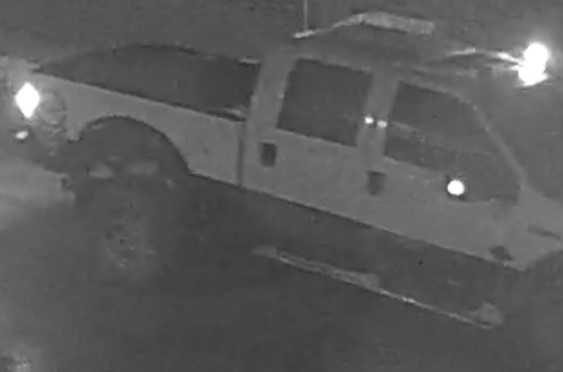 Woodstock Police are searching for the owners of a White Ford Truck that may have been involved in an early morning crime spree in the Friendly City.
WOODSTOCK - Woodstock Police are investigating after a number of break and enters over the weekend.
The first one happened at the Home Hardware on Dundas Street. The suspects rammed the front of their truck into the entrance gate outside the lumber storage area early Sunday morning around 4.
Sunrise Variety on Springbank Avenue was also targeted early Sunday morning. Someone tried to break into the rear door, which sustained serious damage. Police also received a call about a power outage at the Woodstock Pizza and Pasta that morning in the same plaza. The suspects had tampered with the power to the business but did not gain entry.
Also on Sunday, another business, the Pancake House on Juliana Drive suffered a power outage. This time the suspects made it into the business and made off with some cash.
Police believe these incidents are all related. They have surveillance footage of a truck in the area at that time. It is a White Ford F-150, F250 or possibly a 350, with a 4 door crew cab, side steps, a yellow flashing light on the driver's side roof, tinted windows, fender flares and a Metal Melisha decal on sides of the box.