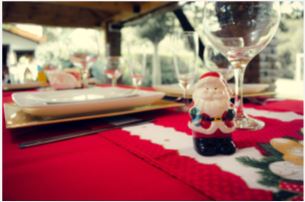 Photo credit: Stacey Hanlon and Carla Vandervecht
Holiday Meals in Ingersoll will aim to help at least 20 families enjoy a home-cooked meal for the holidays.
INGERSOLL - Two women from Ingersoll have organized an initiative to help families this holiday season.
Holiday Meals will be looking to raise money to help at least 20 families enjoy a holiday meal.
Partner Stacey Hanlon says what makes them different than other organizations doing the same idea, is it's simply two people coming together during Christmas time.
"Our local grocery store, Independent in Ingersoll, we've connected with him, with Rob. And he has agreed to help us in this whole process by giving, I want to say almost like a voucher, and that voucher will be given at the grocery store."
She says the voucher can then be used to purchase items like a turkey and canned goods.
In a recent press release on their initiative, studies in 2018 showed over 4,000 residents in Oxford County lived on an income too low to cover their basic needs, although they were employed.
The goal is to raise $2,500 and they'll also be accepting nominations for families in need in Oxford County, providing gift cards to those families so they can create a meal of their choosing.
Partner and founder Carla Vandervecht says small, monetary donations are accepted.
"We hope to reach out to more holidays rather than just Christmas. So we'd extend it to Easter and Thanksgiving if this kicks off the ground for us."
Hanlon and Vandervecht started the initiative just last week by connecting online after Vandervecht posted in a Ingersoll group on Facebook.
You can make donations on their GoFundMe page, which will then be sent to the grocery store and dispersed to customers.
Today is the last day to donate and they also encourage you to share on social media if you're unable to make a donation.