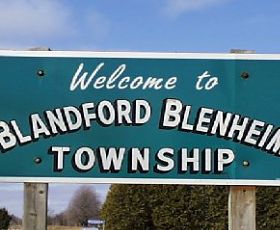 Jordan Kent a council candidate for Blandford-Blenheim has issued a recount of the municipal election regarding concerns about the accuracy of tabulating machines.
BLANDFORD BLENHEIM - An unsuccessful municipal candidate in Blandford Blenheim has asked for a judicial recount of the ballots.
Jordan Kent, a Blandford-Blenheim councillor candidate who ran in the 2014 municipal election has admitted to filing the recount.
When asked what triggered his decision to file for a judicial recount Kent said,"We started recieving some comments from local people almost after election day when we were taking down signs, so we started looking into it, which has led us to the point that we are at now."
Kent has been working on filing the recount since shortly after the election on October 27th. The affidavit he filed to Blandford-Blenheim city hall was handed in the last day for filing a recount on November 26th.
Kent finished 7th out of 8th candidates with a total of 553 votes, well back of last councillor position. Kent said,"We're not hoping for the judge to overturn or throw out the results we just want to make sure the integrity of our voting system has been preserved and that with the new tabulating machines that the numbers were correct."
Kent was unable to speak to the grounds on which the affidavit was filed, "Giving no other comment other than that yes on November 26th we filed for a recount after recieving some complaints from local people." However Kent on social media noted on a facebook post that the City waited until the day the new council was sworn in to release the details of the recount.
CAO and Clerk Fran Bell says the hearing will be for both the mayoral and council positions though she would not say who made the request. "I think he just wants to make sure that the results were valid."
"It's not an automatic. He went before a judge and the judge has set a date for a hearing on this matter. It will depend on what the results of the hearing are." Bell continues "A recount can be requested by anyone but particularly when vote tallies are very close, if there is 4 or 5 votes between two candidates often a recount will be asked for almost automatically. It doesn't mean anything will change but just as an issue of fairness it's usually asked for and granted."
According to the official results posted to the Blandford-Blenheim website Betty Cowan beat her closest opponent by 263 for the last councillor position.
The court hearing is set for December 19 in Woodstock.
Kent has been outspoken on social media following the release of the recount