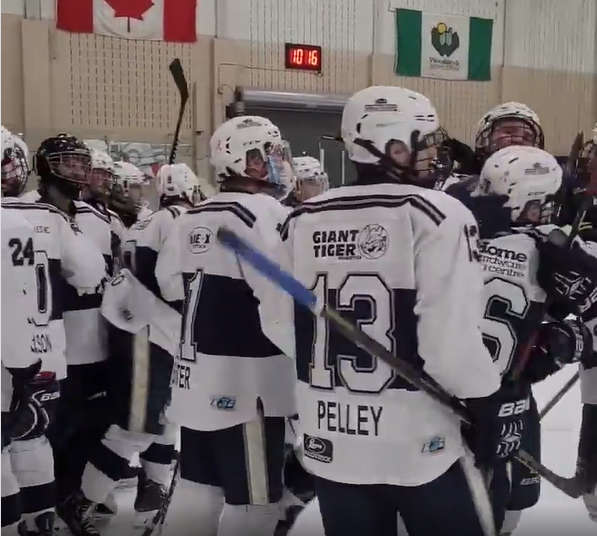 Eric Tuori played the hero last night as the Navy Vets came from behind to beat New Hamburg 4-3 in front of 1,100 fans at Southwood Arena.
WOODSTOCK - The Woodstock Navy Vets trailed in this game three times as they fought their way back for a 4-3 victory over New Hamburg in game 5 of the PJHL semi-finals against New Hamburg.
With the win the Navy Vets have a 3 games to 2 series lead and can close out the series tonight in New Hamburg. If the Firebirds win tonight, game 7 will take place Sunday afternoon in Woodstock, with a 1:45 pm start time.
Eric Touri scored 11 minutes into OT after a fantastic pass from Griffin Sinden to win the game for the Vets. Sinden was the first star of the game scoring twice, including the tying goal midway thru the 3rd period.
Keaghan Brett proved once again why he is one the best in the league, with a game saving save on a breakaway in OT to keep the Vets in the game.
The Thamesford Trojans meanwhile managed to avoid elimination with a 3-2 victory last night in Exeter. Exeter still has a 3 games to 2 series lead heading into tonight's game 6 in Thamesford.
(With files from Jim Taylor)