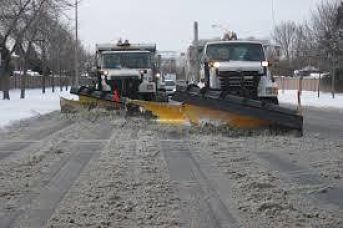 Oxford OPP want to make sure all motorists are being safe when they approach snow plows on the roads this winter.
Oxford OPP have some tips for drivers out there for when they come across snow plows.
You should never pass a snow plow. They are larger than the average vehicle and their blades can extend over a metre into the neighbouring lane. Constable Lisa Narancsik says it is important to give them plenty of space to do their job.
"It's important to give ourselves space and to give the snow plow operators space because they have a huge blind spot and if we are following to close they may not be able to see us in their line of sight. We think that they can see us because we can see them but that isn't the case, so give the drivers lot's of room, let them do their job, they will pull over if traffic backs up too much to allow us time to get by."
It's also a bad idea to drive beside a plow because they can shift sideways when plowing packed snow or drifts. It's best to keep a safe distance behind a plow as it removes the snow, spreads salt or sand and applies anti ice liquid to the roads.