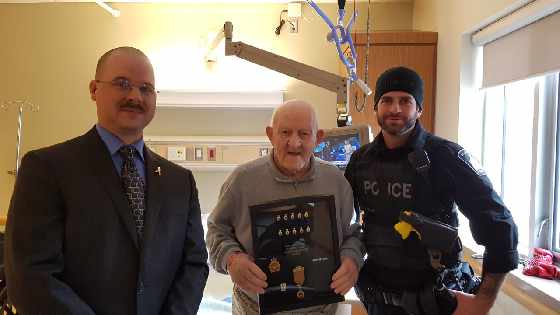 John Wettlaufer of Woodstock received new pins and medals on Friday March 10th.
A Constable with the Woodstock Police Service worked with community partners in order to replace pins and medals stolen from a local veteran.
WOODSTOCK - A 77 year old Woodstock veteran has had some of his medals and pins from the Canadian Armed Forces replaced after they were stolen.
John Wettlaufer, an aircraftsman and 1st class veteran was presented with his new medals and pins on Friday.
Constable Kevin DeClark, a member of the Woodstock Police Service and a Corporal for the Canadian Armed Forces connected with community partners in order to replace some of Wettlaufer's stolen pins and medals.
Private Stephen J. Smith, a historian with the Royal Canadian Legion worked with the chair of the Legion in order to arrange the replacements. Constable DeClark managed to get a hold of the Veterans Advocate from Alberta in order to have a special display case built for the replaced medals. Albert Sinke from Oxford Source for Sports also donated an engraved commemorative plate for the display case as well.
Thieves broke into Wettlaufer's Burtch Street apartment on February 14th.