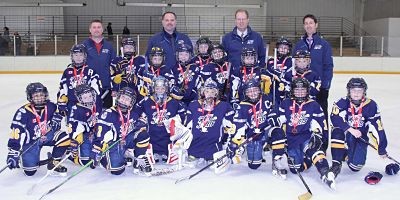 Woodstock Minor Atom Jr Vets took second place at the Rochester International Tournament
ROCHESTER NY - The Woodstock Minor Atom Jr Navy Vets hit the road this past weekend visiting Rochester, New York.
The boys participated in the Rochester International Tournament which attracts teams from both the USA and Canada.
Game one for the Vets had them battling against the Ottawa Sting, skating away with the 2-1 victory. In game two, the boys dominated the Munroe County Eagles (New York State) 7-1. Game three of the round robin against the Pittsburgh Predators ended in a 1-1 tie which left Woodstock seeded second.
For the the quarter final match, the boys faced off again Munroe County again, grabbing a 4-0 victory over the Eagles sending Woodstock to the semi final match where the Jr Vets downed the Markham Islanders 5-1.
The championship match had the Minor Atom Vets taking on the undefeated TNT Tornados. Woodstock took a demanding 2-0 lead after two periods of play but the Tornados came storming back with a strong third period, scoring four unanswered goal to capture the championship 4-2 over Woodstock.