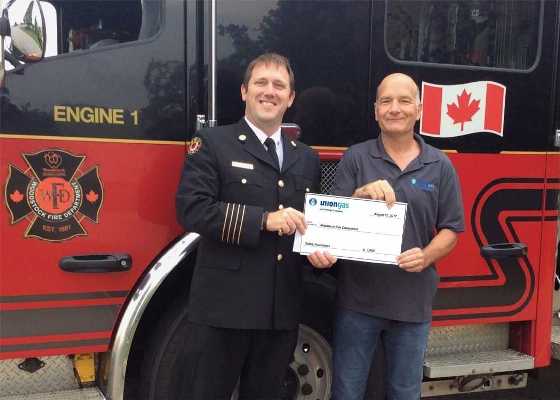 Union Gas is giving the Woodstock Fire Department $1,000 to help them promote fire safety and prevention.
WOODSTOCK - Union Gas has provided the Woodstock Fire Department with a $1,000 grant.
The money will be used to support safety awareness programs. Utility Services Manager with Union Gas Kevin Carr says they were happy to see this money being put towards good use.
"At Union Gas, safety governs everything we do, whether we are building a pipeline or installing a gas meter at your home. Because of our safety culture, we make it a priority to support local safety initiatives, helping to ensure the safety of the community."
The Woodstock Fire Department will use the money to provide residents with fire prevention and educational opportunities. Some of the things they have planned for the fall include a partnership with the local seniors community. They will be doing fire extinguisher training at various locations free of cost to attendees.
Acting Fire Chief Jeff Slager says the department will continue the large graphic displays in high profile facilities within the community to enhance the visual connection to fire and life safety.

"Through generous grants, such as today's from Union Gas, our two organizations are able to partner in providing a learned skill to our senior residents, at no charge to them. This can bring peace of mind in knowing how to respond to a small incident in their home."