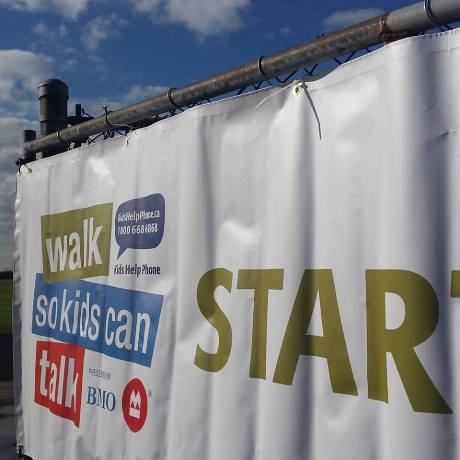 Woodstonians showed their support at the Walk So Kids Can Talk event raising over $8,500 at CASS on Sunday.
WOODSTOCK - Over 100 people showed up to the Walk so Kids can Talk event raising over $8,500 for the Kids Help Phone.
Sarah Lagrove, Manager of Corporate Development and Community Fundraising tells Heart FM the rain held off and turned out to be a great day.
"We did have some great weather on Sunday, which were were very grateful for, it wasn't looking to promising leading into Sunday but it definitely did clear up and we were able to head outside and walk on the Colleve Avenue Secondary track which was amazing. People seemed to be really excited, they really enjoyed the event and we had lot's of activities for kids as well."
Participants got to walk or run for 5 kilometres around the track at College Ave Secondary School. Lagrove says the Kids Help Phone uses fundraising dollars to keep their services running.
"All of the funds raised go to support our professional counselling services, which are available to kids 24-7, so at Kids Help Phone, we are always open, whether it's the middle of the night, after hours, kids can reach out to us on the phone or online through a live chat."
They also had a chance to hear from local digniatries like MPP Ernie Hardeman and Mayor Trevor Birtch. Labrover talks about her favourite part of the day.
"We actually had a number of young people come out and walk in memory of some of their friends and wore some t-shirts to represent that. That is really what the event is all about, it's great to raise those funds and keep those services free for kids all across the Country, but to really see that it is having that it is having that impact and reaching out to young people, who truly are the ones who need it the most."
Funds are still trickling in and the event hopes to reach the $10,000 mark. Nationally Walk so Kids can Talk brought in over $3.5 million dollars.