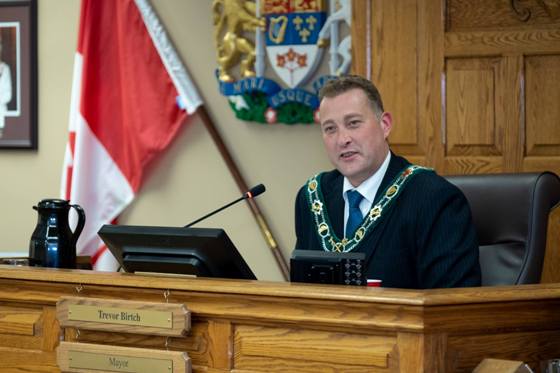 Councillor Deb Tait is bringing forward a motion to place the Mayor on a leave of absence while he undergoes his court proceedings.
WOODSTOCK - Woodstock City council will discuss placing Mayor Trevor Birtch on a leave of absence at their council meeting on Thursday.
A revised Woodstock City council agenda shows a new motion from Councillor Deb Tait.
It reads as follows:
Whereas the charges against Mayor Trevor Birtch remain a matter for Mayor Birtch to respond to through the court proceedings, and Whereas responding to the charges through the court proceedings is expected to take a significant period of time, Therefore be it resolved that City Council approves a leave of absence with remuneration for Mayor Trevor Birtch until such time as any court proceedings are concluded not to exceed the end of this term of Council.
A leave of absence would mean the Mayor would still be paid his full salary.
Trevor Birtch has stepped back from his duties since he was arrested and charged in February.
Birtch has been charged with assault, sexual assault, and sexual assault with choking.
He has not made a public statement on the charges. Birtch has been to a couple of County council meetings since announcing he would be stepping back, however he has not appeared at Woodstock City council.
There have been several calls for the Mayor to resign, including one from the The London Abused Women Centre.