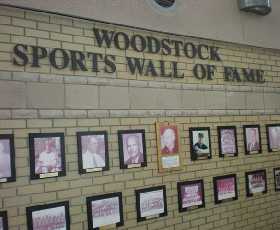 The Woodstock Sports Hall of Fame is ready for a new look and a new class of inductees for 2016.
WOODSTOCK - This years inductees into the Woodstock Sports Hall of Fame have been announced.
Heart FM plans on doing an in depth look at each inductee this year in the coming weeks. Communications and Special Events Planner for the City Brad Janssen tells Heart FM they are really excited to introduce the new and interactive sports wall of fame.
"We will be unveiling not on the new backdrop but we will have two 40 inch screens that will house information on everyone who has been inducted to the hall of fame over the years.
The inductees will be unveiled at a special ceremony on October 29th at Goff Hall in the Woodstock and District Community Complex.
Historic Category:
Mr. Herbert Clark and The Anderson Family
Team Category:
Woodstock Atom AA Boys' Hockey Team - 2004
Individual Female Athlete:
Ms. Kelly Paton
Individual Male Athlete:
Mr. Branden Wilhelm
Builder of Sport:
Alf Langdon
Lifetime Achievement:
Oxford County Naval Veterans Association