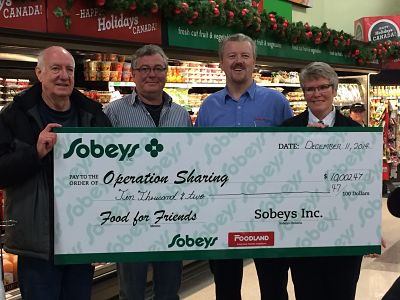 Operation Sharing presented a cheque for their annual Food for Friends Thanksgiving drive
WOODSTOCK - Ten thousand dollars has been handed over the Operation Sharing.
The donation comes as part of the joint Sobeys and Foodland Thanksgiving Quarter Matching program.
Manager of the Woodstock Sobeys store, Sheila Wammes says this is the fifth year for the program. "We do a drive for ten days going into Thanksgiving where our cashiers ask all customers if they would like to donate a quarter to Operation Sharing. Most of our customers know this because we have been doing this for years and they come and give more than a quarter. Sobeys Corporate matches what -- between Sobeys and Foodland - makes."
Vice President of the Board for Operation Sharing, John Klein-Geltink says it's great that so many families are willing to support the efforts of the Food for Friends program.
"I think it's very important especially for those that we serve that they have the opportunity to shop like everyone else does. Especially around special diets and stuff like that. I think it's of huge importance to the community, both in Woodstock and Ingersoll."
Klein-Geltink says it's hard to say how many families the money will help. "I can't speak for the Woodstock site so much because I'm more familiar with Ingersoll but we are dealing with between 60 and 70 households per month and then it depends. If you have a single person, that's still considered a household so it could effect a large number of people."