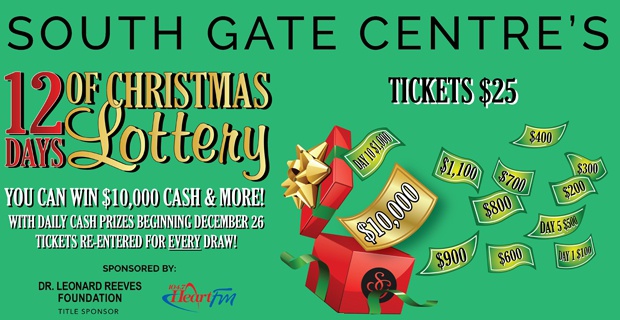 Don't miss out on your chance to win up to $10,000 in South Gate Centre's 12 Days of Christmas Lottery, as tickets are selling fast for the annual fundraiser that supports programs for seniors.
WOODSTOCK - Still time to get your hands on tickets for the 12 Days of Christmas Lottery.
The fundraiser is held by the South Gate Centre and tickets will be on sale until Christmas Eve.
Operations Manager Felise Jones says proceeds will go towards programs at their facility.
"The funds go for the programming in supporting in everything that we do do at the Centre for seniors within seniors in Woodstock and surrounding areas. So those funds go back to support programming, kitchen meal plans. Everything and everything that we do there, we need these funds to do that."
Tickets are drawn daily starting on Boxing Day and the winners will be announced daily here on Heart FM.
The first day will start off at $100, the second day will be $200 and it will go right up until the 12th day.
The annual fundraiser gives people a chance to win cash prizes of up to $10,000.
Jones says you can win more than once during the lottery.
"Of course we invite everybody to come to the Centre during office hours, so South Gate Centre, as well as First Ontario. Smith Flowers has joined the crew this year for selling tickets, Quality Inn and Suites."
Tickets are $25 each and can be purchased at South Gate Centre in person, or by calling 519-539-9817.
Tickets can also be purchased at the following locations:
- Chartwell Oxford Gardens (423 Devonshire Ave, Woodstock)
- First Ontario Credit Union (943 Dundas St, Woodstock)
- Merrifield Book Shop (471 Dundas St, Woodstock)
- Quality Hotel and Suites (580 Bruin Blvd, Woodstock)
- Smith Flowers (583 Dundas St, Woodstock)