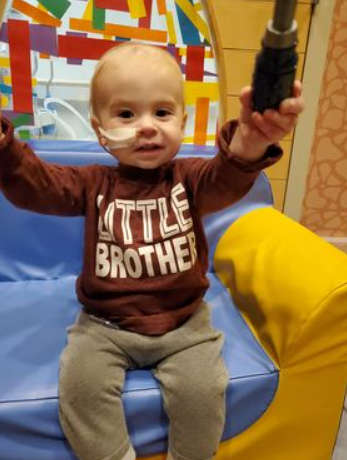 Ellis Roulston was only 14 months old when he was diagnosed with an aggressive stage 4 cancer this past September. A GoFundMe page has raised about $30,000 for his family and Dominos in Ingersoll will be hosting a fundraiser on Sunday November 14th.
INGERSOLL - A GoFundMe page has raised about $30,000 to help Ingersoll's very own Ellis Roulston in his fight against an aggressive stage 4 cancer.
He celebrated his first birthday this past July, and doctors discovered malignant rhabdoid tumours outside his liver in September. His mother Sarah Roulston says he has a long road ahead of him.
"He's looking at about eight months of chemotherapy, he's looking at over a month of radiation, he has at least one surgery coming up and how he is doing all of this with a smile on his face I have no idea."
Roulston says the money they receive will help them cover the cost of Ellis's white blood cell shots and feeding bags, which are not covered under OHIP or her health insurance.
She was hesitant when her friends first approached her about starting the GoFundMe page, but she says sharing her story with the public has helped her family cope.
"We have had people reach out to us that have either been through cancer, their kids have been through cancer or even hospital stays. The fact that all of these people are willing to share our story and help get it out there, it blew up our GoFundMe page absolutely."
You can donate to the GoFundMe page online here. You can also visit the Ellis Fights Facebook page to learn more about Ellis and his fight against cancer.
Dominos in Ingersoll will also be selling large pepperoni and cheese pizzas for $10 each on Sunday November 14th and all of the proceeds will be going to the Roulston family. You can find more details in the flyer below.