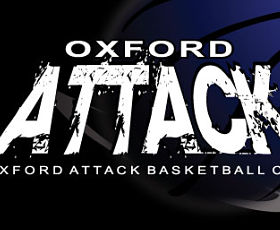 Attack Girls Dominate Home Friendly Tournament
WOODSTOCK: The Oxford Attack Under 13 Bantam Girls dominated all 3 games at their first home friendly tournament of the season by playing great team defense and an unselfish style of basketball.
The Attack opened the tournament against the London 86ers and jumped out to a 7-0 lead after the first quarter by playing their suffocating man to man defense which carried the team to a comfortable 49 – 19 victory. All 13 Attack players scored in this game with Emma Hagen-Johnson leading the way with 7 points.
The Attack's second game was against local rival Tillsonburg Gemini who played a trapping 2-3 zone defense which gave the Attack problems in a tournament game loss earlier this year against Port Colborne. The Attack struggled early, only leading 6 to 2 after the first quarter, but eventually found holes in the Gemini zone and exploded for a 39 – 7 victory. Brianne Kunderman notched 8 points for the Attack and was instrumental in helping solving the zone defense from her post position in the Attack offense.
The Attack concluded their home tourney by defeating a tired Cambridge Centaur squad 31 – 14. Cambridge played a 1-2-2 half court trap which the Attack guards Jaime Magoffin, Beth Ewing, Olivia Kirkwood and Amanda Witmer learned to overcome easily as the game wore on with their great passing. Larissa Bayliss and Leia Carroll had 7 and 4 points, respectively for the Attack. The Attack girls also shot an amazing 50% from the free throw line throughout the weekend.
Next up for the Attack is a home game at St. Mary's Catholic High School on Thurs. Dec. 18 at 6:45 pm vs London CYO.
Article Submitted by coach Paul Cowan