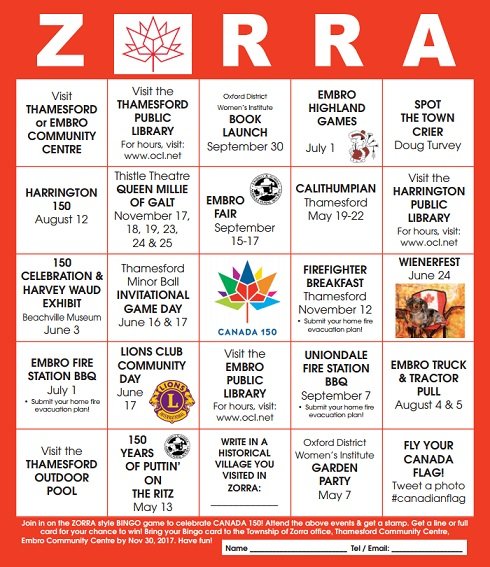 Zorra Township has a new incentive program to encourage residents to take in as many Canada 150 events as possible.
ZORRA - You may hear people shout 'BINGO!' as they celebrate Canada's 150th around Zorra Township.
A special Bingo card brochure has been sent out to residents - for every event they attend, they can earn a stamp on their card. Once they finish a line or get a full sheet, they are eligible for some prizes from the township.
Municipal Clerk Karen Martin says the prizes will keep the celebration going.
"The grand prize is a Canada 150 coin set that the committee has purchased, and there will be two other prizes of some Canada 150 tee-shirts and some Zorra swag."
If you did not receive a card in the mail, there are some scattered around the Township at local businesses and offices.
Completed cards must be returned by November 30th to the Township of Zorra office, Thamesford Community Centre, or Embro Community Centre to be considered for the prize giveaways.