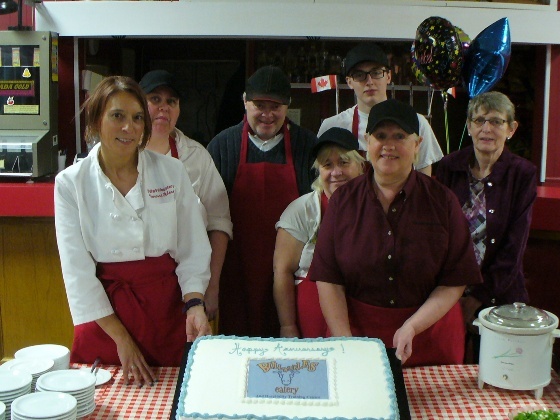 It was all smiles at Bullwinkle's today after they celebrated their one year anniversary.
WOODSTOCK - Bullwinkle's is celebrating their one year anniversary today.
For the past year they have been offering amazing food to the people of Woodstock on a sliding scale. It costs $1 for those less fortunate in the community and $7 for those who can afford it to partake in the all you can eat buffet. They also provide culinary training and life skills to groups of volunteers. Chef and Trainer Vanessa Giuliano tells Heart FM they have gotten a lot of great feedback from their customers.
"We've had people say how their health is better from people eating here, we had one lady who so badly wanted to donate blood and couldn't because her iron levels were so bad and then she came to me the other day and said, Vanessa I can give blood, my iron is good and it is just from eating here."
Bullwinkle's averages about 65 people every Tuesday and Thursday at the Moose Family Centre in Woodstock. Giuliano adds Bullwinkle's has also helped five volunteers find gainful employment afterwards as well as instilling confidence in all volunteers.
"We teach not only cooking and serving, we teach life skills - we teach employment skills."
All of the previous volunteers were invited back to the eatery to celebrate the occasion. They also had a special cake made for the celebration.
Another new item to Bullwinkle's is they have started doing catering. Already they have landed four catering jobs and any money made from those is put back into the program. If you would like Bullwinkle's to cater your next event contact Vanessa at 519-320-1372 or by email operationsharing@yahoo.com.