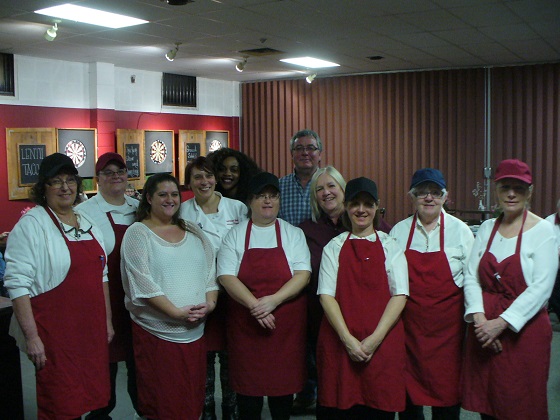 If your stomach is growling at lunch time there is a new option where you can find good food and community spirit no matter your income.
WOODSTOCK - Bullwinkle's Eatery at the Moose Family Centre is having its grand opening today
The innovative concept is designed to erase the stigma around soup kitchens and they invite people from all walks of life to come in and enjoy a warm meal. This not for profit venture is being done by Operation Sharing along with the Salvation Army who are doing the culinary program. Executive Director Stephen Giuliano tells Heart FM the meals will be priced on a sliding scale.
"They can enjoy a buffet style lunch on Tuesday and Thursdays every week on a sliding scale with a minimum donation of 50 cents and up to $7.00, where people can come and sit together along with our hospitality training centre which started in full swing two weeks ago."
Giuliano admits that for some of our less fortunate who use soup kitchens, it may be a little bit of an adjustment at first.
"I suspect that there will be some who have used a soup kitchen will be apprehensive at first for a variety of reasons. I don't think the financial situation in terms of the amount that we are asking is unreasonable for people and I also want to give the less fortunate an opportunity to give back."
He adds they're definitely ready for opening day and he is really happy to see this dream become a reality.
"I'm honoured to be in a partnership with the Salvation Army and the Moose Family Centre is this future endeavour, supporting those less fortunate and also building community in a stronger sense where people can come together."

Bullwinkle's celebrated a soft launch last week and are opening their doors to the public for the first time today.
They are open every Tuesday and Thursday from 11:45 a.m. and 1:30 p.m at 690 Sutherland Drive in Woodstock.